Already using Slack? Using it at the office? Good, find out how to make the most of it!
Slack Technologies Inc., the start-up behind the team communication tool Slack, recently announced it had raised $200 millions from a new round of funding. With this operation, Slack brings its value to $2.76 billion dollars according to sources close to the case that was relayed by the Wall Street Journal.
At Techso Solutions, we use Slack internally in our office and onsite, mainly for instant messaging between workgroups and individuals. We also tested its phone and conference calls features based on WebRTC. These functionalities are the ABC of corporative email. What's even more interesting are the possibilities of customization and integration of the application to our client's processes. Slack offers an API allowing to interact with channels for discussion and users.
Say hello to Techsobot !
At Techso Solutions, we've created an application (we named it Techsobot) that connects through the Slack's API. Let's take an example:
In our channel #support we can ask a question directly to our application integrated in Slack on our servers' status:

Our application collects the results and send them in our discussions' channels.
By appropriately using the API, Slack becomes a powerful collaboration tool for instant emailing, in addition to its corporative social network function, all in one interface. It is kind of a modern IRC, enhanced by the simplicity of its interface, the flexibility of its API and the power of a SaaS service. Moreover, this is all accessible through smartphone. You are constantly on the road with your smartphone and you need instant information or a file?
Ask for it on Slack: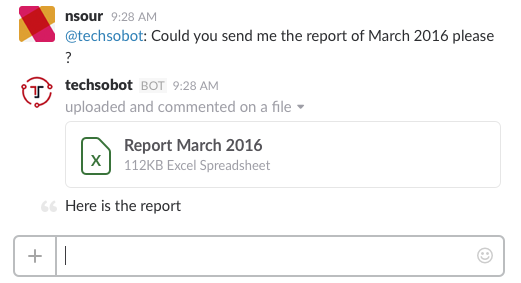 How long would you have spent on your cell phone trying to do this simple task?
Slack is a perfect example of a tool that enters in your business' digitalization project: the user experience is enriched and as natural as possible. Tasks with low value added are automated, giving you and your co-workers more time to concentrate on strategic activities. Your business' image, your services and the user experience will be all the more effective.
Any questions? Give us a call!