It is now common knowledge that for a digital transformation initiative to succeed, it requires adequate investment in the following four dimensions: people, process, technology and data. There is no way around it, a positive transformation cannot manifest if the proper building blocks are not assembled to create a new collaborative functional domain. If one dimension is lagging, the whole initiative derails. It's that simple. 
But an often-forgotten 5th dimension is frequently overlooked: Governance. So from now on, we must ensure that we talk about 5 dimensions — or 5 building blocks.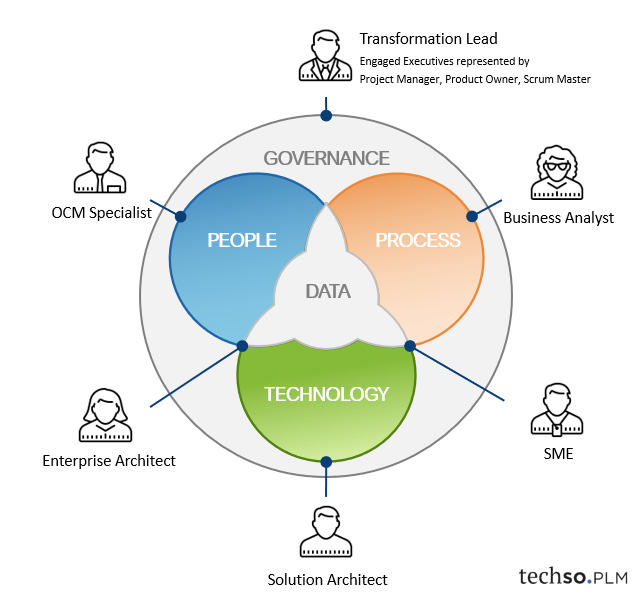 Let's take a moment to explain these dimensions as well as the roles of those who need to support them. They create the structure that allows the transformation initiative to grow and blossom, and are a key elements to successful implementations.
1. Project Scope and Objectives. This is where it starts, in the dimension of a digital transformation initiative: Governance. Here, the Transformation Lead engages and sets a clear vision. Often followed by a Project Manager or Product Owner, they use an approved baseline plan and mandate to support the team. The plan will adapt and change along with all other deliverables. Every dimension needs to adapt and progress from their baseline to an agreed best compromise.  
2. Organizational chart. A business is about people first and they cannot be an afterthought when it comes to digital transformation. The Organizational Change Management (OCM) specialist contribution is crucial in business role alignment, communication and understanding transformation value for the enterprise precious resources. Every automation, optimisation and change will bring opportunities to elevate employees' capacities. The mandate should not be about reducing headcount but enabling new offerings which increase customer value and delight.
3. Process Diagrams. An enterprise is organized around its culture and optimized work methods that are often key differentiators. The Business Analyst role is to make the process maturity evolve for those in scope while maintaining coherence within the whole process landscape. This is done by adapting activities to new potentials made available by evolving digital technology.
4. Storyboard and Procedures. The way we use available tools evolves constantly and new technological paradigms open doors and paths that can support enhanced business processes and offerings. The role of the Solution Architect is to guide the team to find the best technological way to leverage new capabilities in the intended context and defined scope.
5. Data Model and System Landscape. While governance brings the initiative's framework and vision, the building material and proper digital standards are controlled by the Enterprise Architect. Data is the oil of the digital era and the integrated structure of systems needs a holistic approach to achieve a well oiled and efficient machine. Digital transformation is all about integration and breaking silos. Any attempts to transform in isolation is worthless or at risk to be ROI negative!
And no one can be left behind.
Just as it is crucial to have everyone onboard to bring all needed structuring elements early to avoid dangerous guesswork and flawed assumptions that will undermine the project, it is crucial to integrate all roles from day one to the completion line. The transformation takes place in all dimensions and the improvements we are trying to implement impacts the entire company. If someone is left behind it will simply destabilize the outcome. A very risky path. So why not make sure that your initiatives cover all angles, at all times?