Introduction to Genesys eServices
Genesys eServices (called Multimedia in versions 8.0 and earlier) is a Genesys platform that allows contact centers to handle various types of "non-phone" interactions, including social media, thus offering a better and wider customer experience.
Techso can help you integrate this solution into your contact center, taking into account your business needs. Our specialists have the expertise to adapt this solution to the real needs of your company.
The two diagrams below (source: Genesys.com) represent the main components of the Genesys eServices suite.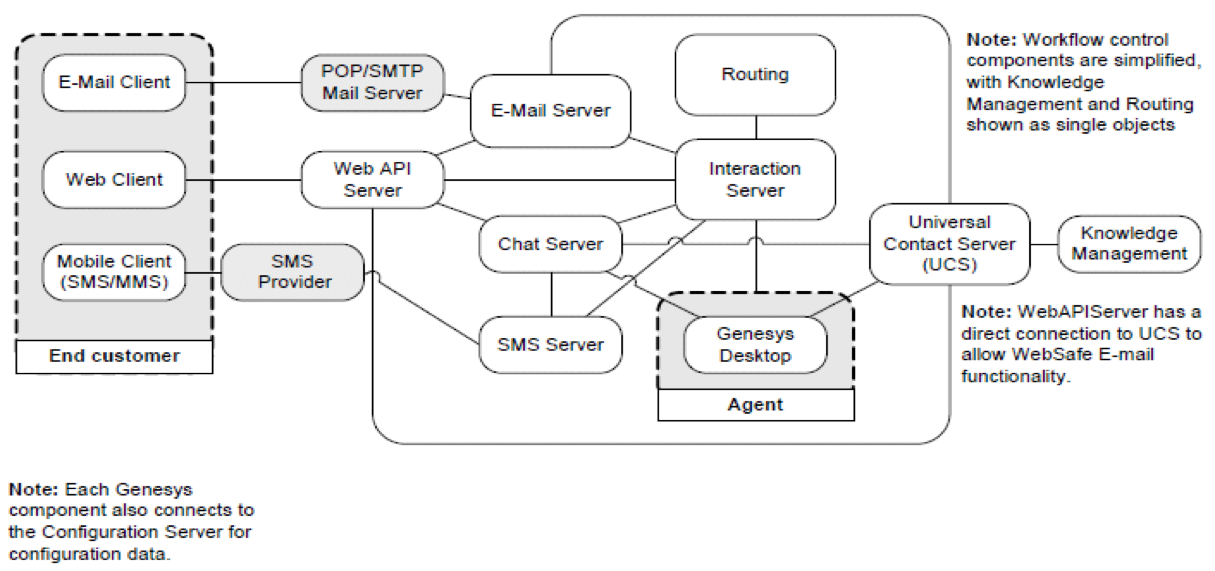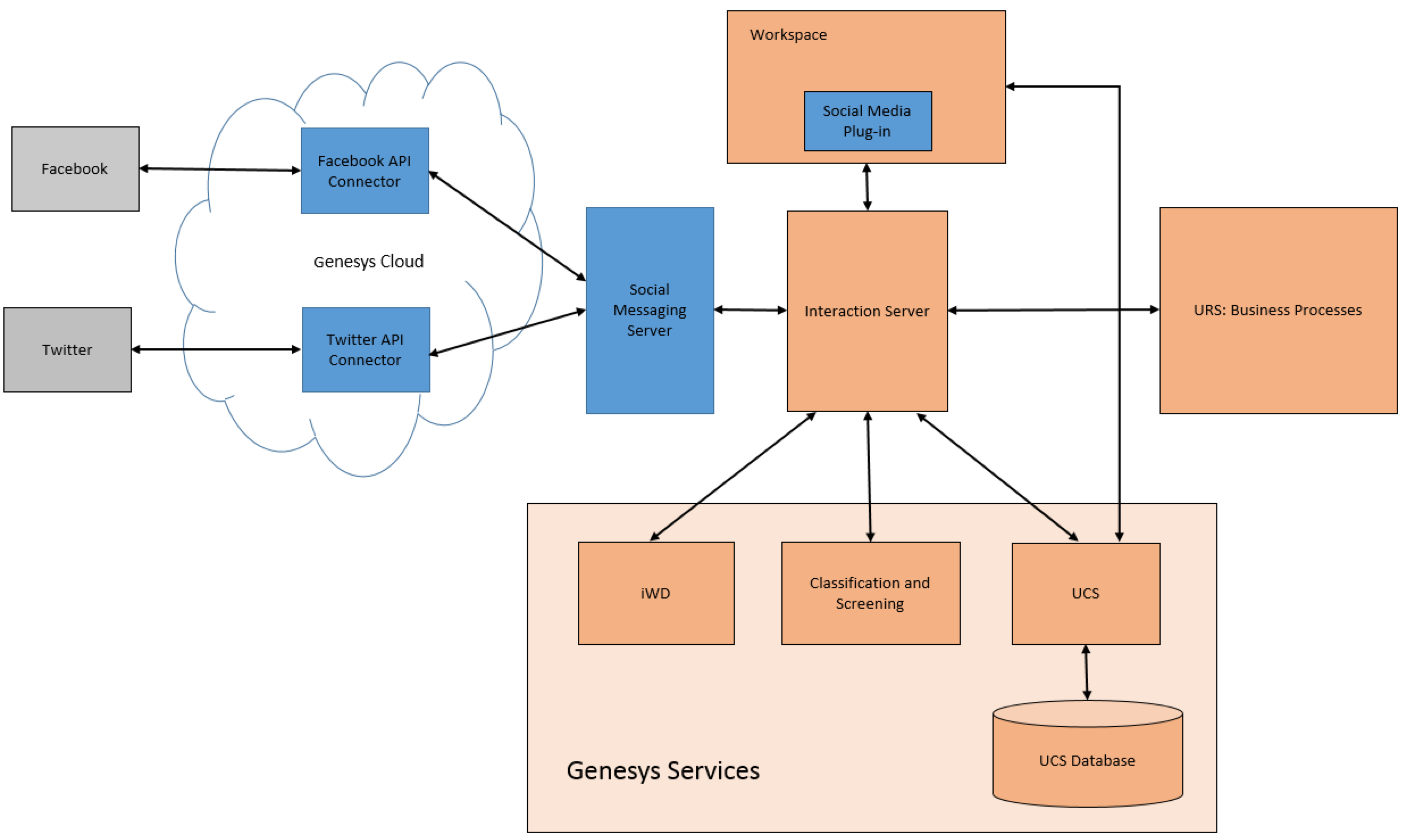 The five most common interactions used in eServices are: text messages (SMS), multimedia messages (MMS), chat, e-mail and web callback. Let us briefly explain each of these interactions.
SMS and MMS
SMS messages arrive when a mobile client sends an SMS to a contact center phone number. Genesys SMS Server receives and forward it to the most appropriate agent according to routing strategy.
SMS Server supports two modes of operations:
 
"Paging Mode" witch refers to the reception of an individual SMS message from a mobile client and sending it to agents (Paging inbound) or sending an individual SMS to a client mobile client (Paging Outbound). In this mode, the SMS server submits the received SMS to the Interaction Server as an interaction. An agent, a routing strategy, or an application can also send an SMS to clients
"Session Mode (chat)" Refers to the creation and monitoring of a conversation interaction between a mobile client and an agent in the form of a conventional chat session. All messages received and sent during this session are associated with a single interaction, called an SMS session.
An MMS message occurs when a mobile client sends an MMS message to a contact center phone number. Genesys SMS Server is the recipient and will handle it. SMS Server supports only Inbound mode for MMS.
CHAT
Chat interactions are initiated when a Web client submits a chat request to the Chat Server, for example, when a client submits a question on your website. This interaction is handled by Chat Server and the Universal Contact Server (UCS) and will be redirected to the best available agent.
E-Mail
An E-mail interaction is received either by the company's email server if the client sends an ordinary email or by a Web API Server (if the client sends an e-mail within a web form). This interaction will be handled by the services of the E-mail Server and the Universal Contact Server (UCS).
Genesys Callback
Genesys Callback provides a unique platform through IVR, Web and Mobile contact points, providing seamless integration with the contact center. The objective is to offer a consolidated approach to the recall by offering the client to be recalled at a given time by the next available agent. Genesys callback features are based on callback services provided by the Genesys Mobile Services (GMS) component. "Virtual Hold" is an example of what this service can offer.
Global view of multiples components of the CallBack service (source: Genesys.com).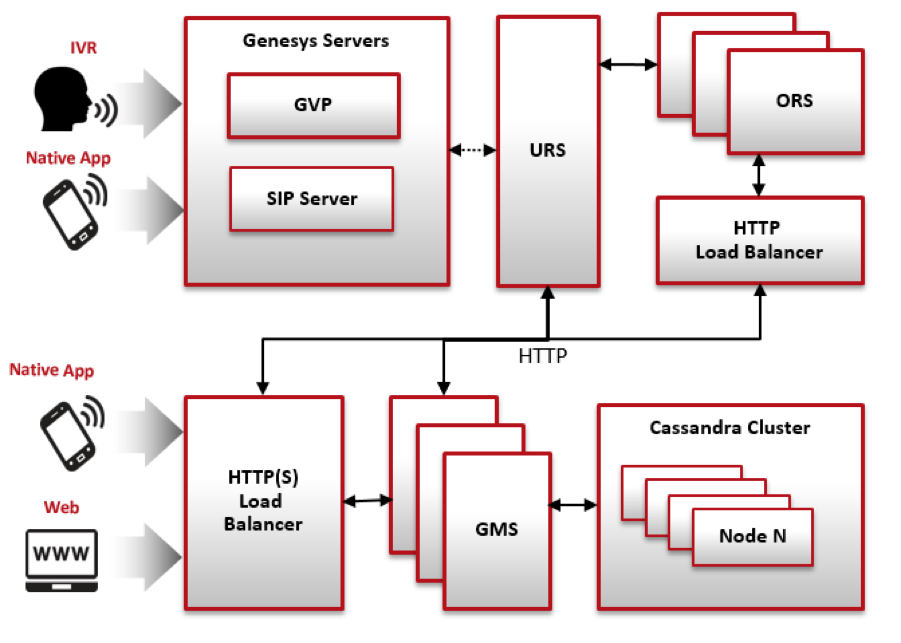 Summary
Genesys eServices solution enables contact centers to develop multimedia technologies to deliver value-added services to its customers. If you have any questions about Solutions Techso's consulting services, please do not hesitate to contact us.